A toasted slice of hearty, whole wheat bread is the perfect vehicle for a variety of toppings. Whether you like your toast sweet or savory we have a toast for you.
Below you'll find 5 delicious recipes for both classic and non-traditional toast toppings.
Enjoy your toast for breakfast, a mid-morning or afternoon snack, or even serve it as an appetizer or first course.
What is your favorite toast topping?
---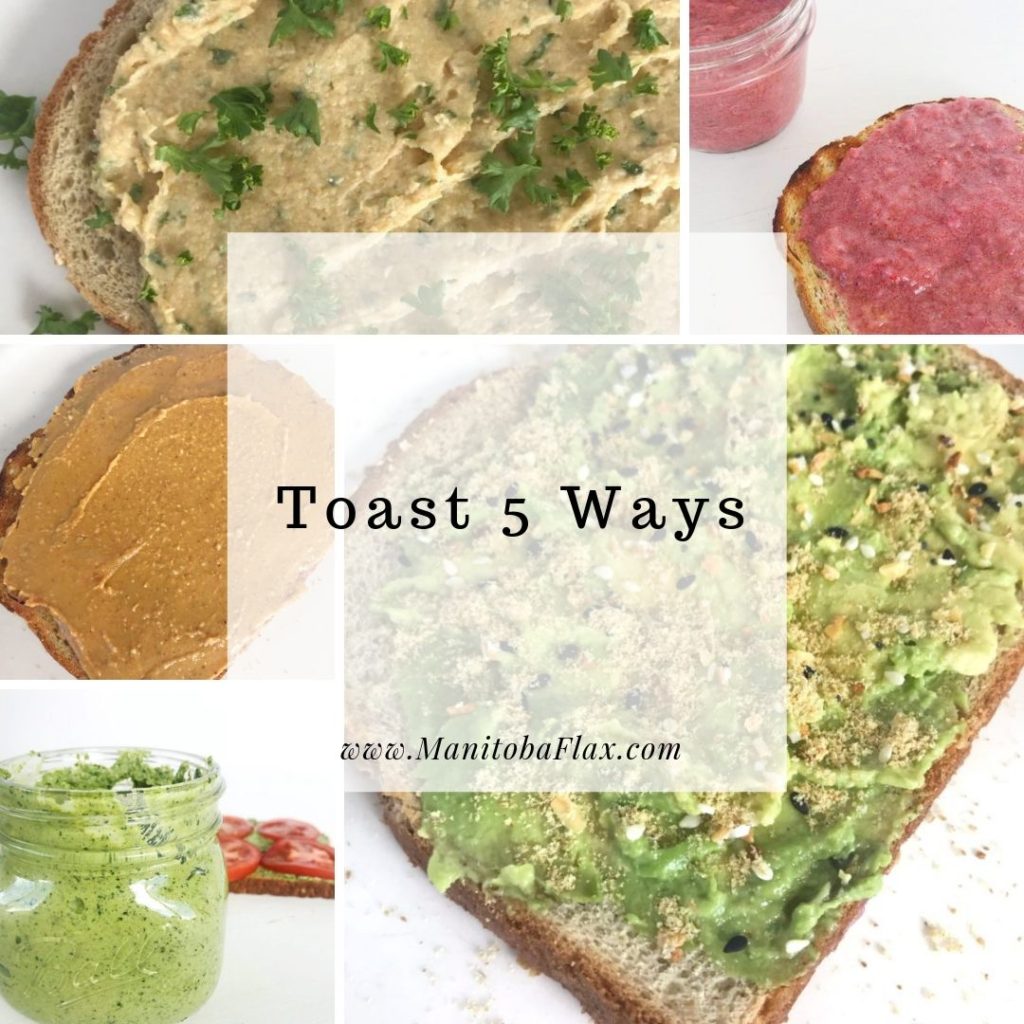 ---
1. Avocado Toast with Flax
Slice and mash about 1/4 to 1/2 of an avocado. Spread it on a slice of toast. Top with Everything But the Bagel Seasoning (crushed red pepper or chili powder would taste great too if you like spice!). Finish it off with a few pinches of milled flaxseed.
---
2. Strawberry Flax Spread
Milled flaxseed can be used as a natural thickener to make homemade jams or fruit toppings. All you need is strawberries, milled flaxseed, and a dash of pure maple syrup.
Get our recipe for this Strawberry Flax Spread here. Use it on toast, muffins, or pancakes.
---
3. Classic Peanut Butter Toast (with flax)
If you're a fan of milled flaxseed, you probably know about its ability to absorb liquid. This works well to make vegan flax eggs and works to help bind recipes such as burgers or meatballs (try these salmon patties).
This also works to absorb the excess liquid that rises to the top of a jar of natural peanut butter. Learn more and get the recipe here.
---
4. Creamy Pesto Spread
This creamy homemade pesto includes a large scoop of milled flaxseed to aid in the creamy consistency and nutrition profile.
Lather it on a slice of hearty, whole grain toast, top with sliced tomatoes and a sprinkle of mozzarella cheese.
---
5. Roasted Garlic Hummus
Toast doesn't have to be just for breakfast. Try this Roasted Garlic Hummus as a dip or on toasted naan bread for a snack or appetizer.
Sign up for special offers, updates, and more!